BICARBONATO X CÂNCER
Bicarbonate Increases Tumor pH and Inhibits Spontaneous Metastases
Published Online First on March 10, 2009
Research by:
Arizona Cancer Center, University of Arizona, Tucson, Arizona
Department of Pharmacology, Wayne State University, Detroit, Michigan
H. Lee Moffitt Cancer Center and Research Institute, Tampa, Florida
Ian F. Robey, Brenda K. Baggett, Nathaniel D. Kirkpatrick, Denise J. Roe, Julie Dosescu, Bonnie F. Sloane, Arig Ibrahim Hashim, David L. Morse, Natarajan Raghunand, Robert A. Gatenby, and Robert J. Gillies
Abstract
The external pH of solid tumors is acidic as a consequence of increased metabolism of glucose and poor perfusion. Acid pH has been shown to stimulate tumor cell invasion and metastasis in vitro and in cells before tail vein injection in vivo. The present study investigates whether inhibition of this tumor acidity will reduce the incidence of in vivo metastases.
They show that oral NaHCO3 selectively increased the pH of tumors and reduced the formation of spontaneous metastases in mouse models of metastatic breast cancer. This treatment regimen was shown to significantly increase the extracellular pH, but not the intracellular pH, of tumors by 31P magnetic resonance spectroscopy and the export of acid from growing tumors by fluorescence microscopy of tumors grown in window chambers.
NaHCO3 therapy also reduced the rate of lymph node involvement, yet did not affect the levels of circulating tumor cells, suggesting that reduced organ metastases were not due to increased intravasation.
In contrast, NaHCO3 therapy significantly reduced the formation of hepatic metastases following intrasplenic injection, suggesting that it did inhibit extravasation and colonization. In tail vein injections of alternative cancer models, bicarbonate had mixed results, inhibiting the formation of metastases from PC3M prostate cancer cells, but not those of B16 melanoma. Although the mechanism of this therapy is not known with certainty, low pH was shown to increase the release of active cathepsin B, an important matrix remodeling protease.
Source: Cancer Res 2009;69(6):2260–8 | PMID: 19276390 [PubMed - in process]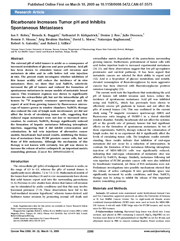 This article has been published by the AACR
 
          Tullio Simoncini (1951) is a roman doctor specialising in oncology, diabetology and in metabolic disorders. He has a strong opposition to any type of intellectual conformity, which is often based on suppositions without foundation or worse, on lies and falsities.
When, considering the total failure of official oncology, which is obvious to all, one can understand his strongly critical position of an Italian and global medical system that operates in what is a scientific dead end that is of no help whatsoever to the patients.

Dr. Simoncini cultivates sports and takes care of his mind and body by following elementary natural rules such as a healthy diet, physical activity and the practice of moral responsibility. He favourite sports are jogging, skiing and soccer.
His tendency to medical and scientific synthesis also stems from a natural sensitivity that tends to perceive the harmony of the whole as distinct from the value of its constituent parts.  This quality is reinforced and expressed by his propensity for music, and cultivated by his practice of musical instruments such as piano and classical and modern guitar.
When a student in high school and university, his musical abilities led him to form various musical bands that toured central Italy.

Simoncini's personality is pervaded by a strong humanitarianism, which triggered him to reflect, because of  the impotence of medicine when faced by the pain of patients, on how little and inadequate medicine's fundamental knowledge is. This empathy for the pain of others has been the constant motivator on the path of his personal life.
He's always travelling throughout the Italy to explain his theory in congresses, conferences and interviews, and to show how many patients healed from cancer.

Dr. Simoncini diecovered that the cause of this terrible illness is a fungus and tried hard to persuade scientists how wrong are the actual theories on cancer. His therapy based on the strongest antifungal substance, sodium bicarbonate, is harmless and very effective and should be adopted all over the world.
::TESTEMUNHOS DO Dr. SIMONCCINE
Esse artigo tem propósitos apenas informativos. NÃO FORNECE ORIENTAÇÕES MÉDICAS. quanto o autor e divulgador não se responsabilizam por quaisquer conseqüências possíveis oriundas de qualquer tratamento, procedimento, exercício, modificação na dieta, ação ou aplicação de medicamento que resultem da leitura ou observância das informações aqui contidas. A publicação dessas informações não constitui a prática da medicina, e não substituiu o conselho do seu médico ou outro profissional de saúde. Antes de adotar qualquer tipo de tratamento, o leitor deve procurar atendimento médico ou outro profissional da saúde.